The Cristina Cruise was designed and built in 2010, Its length is 32m and there are 10 comfortable rooms, containing: 2 triple rooms, 3 double rooms and 5 twin rooms. Plus a restaurant that is 70 m2 and a sundeck where you can enjoy self tanning, and the sun rising and setting by the bay. Cristina Cruise is a wooden and handmade junk that included 15 engineers and worker, for 12 months. It finally finished on the 15th April, 2009. It is also equipped by an engine of 3000 horse power which is enough for you to surf on the waves. THE ACCOMODATION
Cristina Cruise has 10 deluxe rooms including 2 triple rooms, 3 double rooms and 5 twin rooms. Each room is fully equipped with furniture, such as, individual air-conditioning controller, bathroom amenities, hot water, wardrobe, slippers, shower, etc. With these comfortable facilities that have been imported from the beset manufacturers, they will certainly satisfy you and your needs, even if you are a hard one.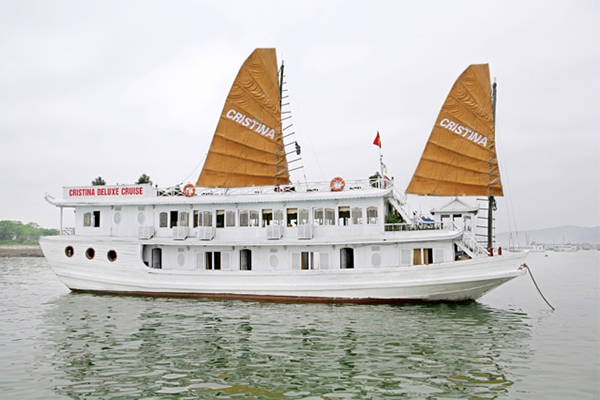 THE BAR
Cristina Cruise's bar has a large vessel that measure up to more than 20 square meters. With a variety of beverages, we will certainly give you a comfortable place to relax. What sounds better than having glass of cocktail in hand, relaxing after a long vigorous day around Ha Long Bay or even a perfectly good glass of wine with friends at night, sitting on the tables by the window, and at the same time watching Ha Long Bay's breathtaking sunset between islands. You most certainly will not forget that feeling, ever.

LIVING ROOM
Luxury living room and clean is where you will enjoy the relaxation and family friends. Talking and eating seafood dishes by top chef Critina deluxe boat. The luxurious space for you watches the sky and sea. In the lobby bar will serve soft drinks to sip your stay even better.

THE SUNDECK
From the sundeck, passengers can enjoy the perfect beauty of Ha Long bay, both at day or night. Comfortable as can be when lying on a wooden soft bed, with a deep blue sky above you and a fantastic cool cocktail in hand. Do you want to have beautiful tanned skin ? or do you need somewhere to relax whenever you want ? or do you love to take spectacular photographs of the beauty that Ha Long Bay has to offer, to have as a memory forever ? then this is great place for you to implement it.