"Built in 2011 and based on an exotic oriental junk, Ha Long Dragon Cruise, the model of the old Vietnamese court vessels with sails, a wide transom and rectangular super structure, luxurious, traditional styling paired with sophisticated modern facilities and comforts. The junk boasts romantic wooden fixtures, a multitude of windows to make the most of the amazing views and a spectacular upper deck for your total relaxation. All cabins are air-conditioned and have windows overlooking the bay. From the moment you step on board the Ha Long Dragon Cruise you will feel pampered. All team members are well – trained graduates dedicated to bringing you the very best of Halong Bay. Dragon Cruise team will also bring new feeling about unique heritage in the world.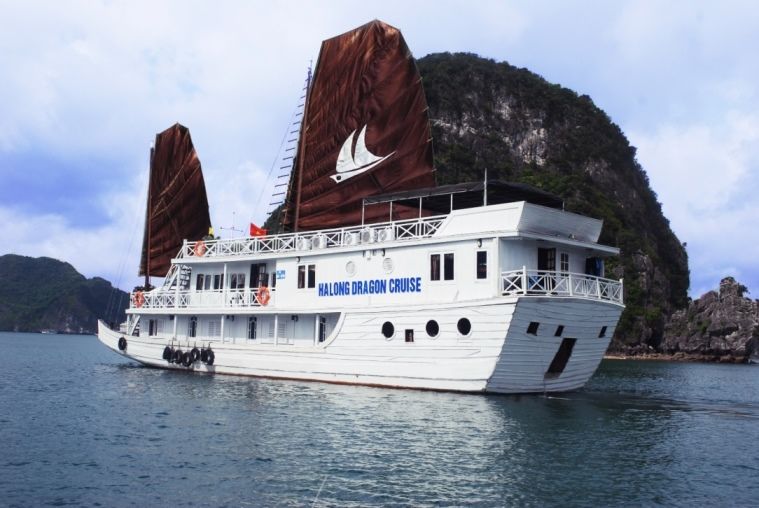 Being one of the leading tour operators in Viet Nam, we have long-established and reliable relationships with our suppliers, ensuring not only competitive prices but quality service. To ensure your comfort, we always use private transport to travel by road. We have our own modern fleet of air-conditioned vehicles, ranging from 4 to 29 seaters bus, depending on the size of the group. We promise to provide you sophisticated services.We operate and care your trip as well as the environment in the word heritage. We also work for the Vietnamese spirits of caring customers. We give consultation to customers of what should be in the trip, we answer directly and accurately what you ask and we do exactly what we say.
Cabin:
5 double room and 5 twin cabins have shower bathroom with hot and cold water, A/C, walk-in closets, safety life vests will make you feel comfortable. The harmonious combination among wooden carvings, lantern inspires customers' classic impression. Whenever you can relax in your room and enjoy the splendor of the sites through panoramic window.
Restaurant
Located in the front of the junk, with area for check in/out, this cozy restaurant is designed to serve 22 customers with separate tables and chair carved with precious wood. Cuisines offered on board with topics: traditional Vietnamese and Western foods.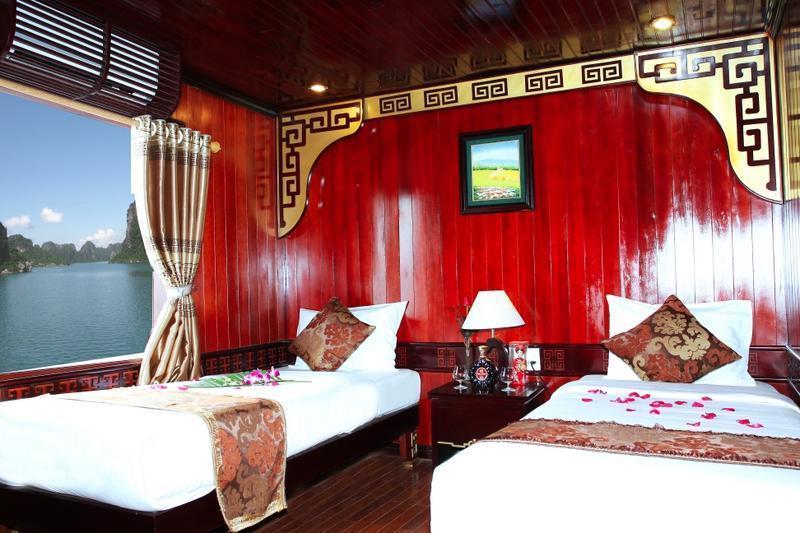 Sundeck:
We separated the junk into 2 areas: one with sunbathing chairs where the guests can be tanning themselves for relaxing with sunset complementary drinks and foods, one with wooden chairs where you can sit and enjoy cocktails, and the tranquility of World Wonder Heritage surrounded by green background of emerald water. Activities: Here you can enjoy night fishing, karaoke, swimming, kayaking, visiting caves, biking and trekking (3 days – 2 nights trips). Those are the typical activities in Halong bay without any charging.